Arab Organization for Human Rights in the UK (AOHR UK) conducted field research in the Occupied Palestinian Territories between January and December 2015 so as to document human rights violations committed by the Palestinian Authority security apparatuses.The research revealed that more than 1392 Palestinians were arrested for political reasons in various parts of the West Bank, 22 of whom were charged with carrying out anti-Israeli activities. Another 323 were summoned for questioning before being released on the same day, Some of those arrested were summoned several times throughout the year. A recorded 273 were summoned and detained in June alone.
Detainees included 25 women, 27 children, 68 journalists, 41 teachers and 422 university and school students. The largest number of detainees, approximately 969, comprised Palestinians who had been previously freed from Israeli jails.
The geographic distribution of arrests and summons was as follows:
462 from Hebron;
246 from Nablus;
208 from Ramallah and Al-Bireh;
173 from Tulkarm;
153 from Bethlehem;
151 from Qalqilya;
125 from Jenin;
72 from Salfit;
70 from Tubas;
32 from Jerusalem; and
23 from Jericho.
Torture is now being used with abandon as an acceptable tactic in PA prisons. AOHR UK documented 37 instances of individuals being subjected to torture whilst under arrest, including physical assaults with batons and ropes, being hung from windows and doors, being held in stress positions for hours, and near-death strangulations. A number of detainees were held in solitary confinement for several months, prompting a number of them to go on open-ended hunger strikes to protest again the inhumane treatment and torture, and demand their immediate release.
All PA security apparatuses participated in these arrests, summons, and acts of torture.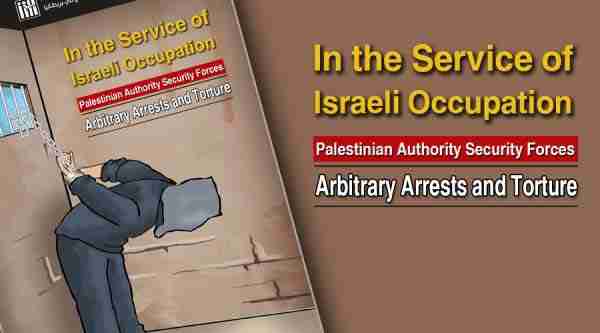 AOHR has evidence to suggest that:
The Preventive Security Force were involved in 949 incidents involving human rights violations;
The General Intelligence Services with 740 cases;
The National Security Services with 17cases;
The Military Intelligence Services with 6 cases; and
The Special Forces and Presidential Guard with 3 cases each.
The Security forces also seized personal belongings and property belonging to 76 Palestinians during the course of the arrests including ID cards, mobile phones, computers, cars, sums of money and various documents.
On fourteen occasions, the PA security forces used live bullets to intimidate Palestinians, injuring a 12-year old child on one occasion. At least 43 Palestinians were brutally beaten, and one was hit by a car during the course of his arrest. Security forces also held four Palestinians in custody so as to force members of their family who were sought by the security services, to hand themselves in. A man and a woman were also banned from travelling outside the West Bank.
The PA security forces often refused to comply with court orders for the release of detainees. At least 26 Palestinians remained in custody even after the court ordered their release. Another 11 Palestinians were held under "administrative detention" by the governor of their respective towns.
Only court decisions extending detainees' remand in custody are usually routinely implemented, as was the case with verdicts sentencing four Palestinians to prison for periods ranging between 3 to 10 years. One of those Palestinians was sentenced in absentia since he is currently detained in Israel where it is expected he will be sentenced to life imprisonment.
Security forces cracked down on many peaceful protests held to oppose human rights violations by Palestinian security forces and Israeli occupation troops. At least 33 peaceful protests were disrupted and stopped in the West Bank, with officers, some dressed in plain clothes, assaulting protesters and seizing personal belongings, banners and brochures. Media outlets were often banned from covering these protests.
---