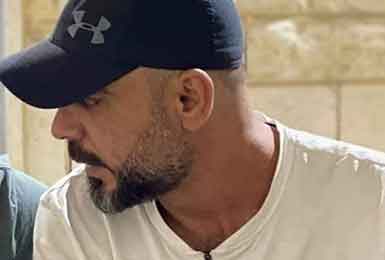 Palestinian detainee Abdo al-Khatib, 43-years-old, was subjected to torture during his interrogation at the al-Maskobiya prison in occupied East Jerusalem, or al-Quds as it is known in Arabic – a prison that has seen the torture of thousands of Palestinian prisoners.
According to numerous testimonials from members of al-Khatib's family, and other detainees, he was beaten and electrocuted, causing a heart attack that led to his death.
Al-Khatib, a resident of the Shuafat refugee camp in al-Quds, was arrested on a traffic violation. He is married and has 4 children. His wife is pregnant.
According to local groups specializing in prisoner affairs, on 30 June of this year, Israeli occupation forces held approximately 4,850 prisoners, including 41 women and 225 children. 540 of those prisoners were "administrative detainees".
Arab Organisation for Human Rights in the UK (AOHR UK) has repeatedly stressed that the impunity that the occupation forces' leadership enjoys – the lack of accountability for its crimes, and the cynicism of the international community in regards the same forces' violations again Palestinian citizens, and prisoners in particular – serves as a green light, encouraging them to commit only more crimes.