The United Nations has said that it aims to raise $3.85 billion in order to avert mass famine in Yemen at a "high-level pledging event" held today (Monday 1 March). 
The event is organised by the UN's Office for the Coordination of Humanitarian Affairs (OCHA), which has said that,"the risk of large-scale famine has never been more acute. Assessments confirm that more than 16 million people will go hungry this year."
Today' conference involves over 100 countries, and is co-hosted by Sweden and Switzerland.
Continuing conflict
The event comes as armed conflict reaches the previously peaceful Marib Governorate, and its capital, Marib City.
The governorate is one the major oil-producing regions in the country. In the west-centre of Yemen, it has proven a relatively safe area in the war-torn country, with "hundreds of thousands of displaced Yemenis" having sought refuge there since the start of conflict in 2016. 
US President Joe Biden recently announced the end of America's support for the Saudi-led coalition's "offensive operations" in the country. However, this does not appear to have diminished fighting in Yemen itself. 
Hunger
Meanwhile, a huge number of the country's population continues to go hungry. The UN currently estimates that over 16 million Yemenis – half the total population – will face hunger this year. Almost 50,000 people are "already starving in famine-like conditions". 
Yet, last year, "the UN and its partners last year received $1.9 billion [in foreign aid to Yemen], about half of what was required", the UNOCHA said in a February statement. This drop was due to both Covid-19-related pressures on national governments, and the obstructing of aid for political purposes.
Over 300 health centres lost critical aid, the UN reported last September.  As UN Secretary-General António Guterres said last November, "Yemen is now in imminent danger of the worst famine the world has seen for decades. In the absence of immediate action, millions of lives may be lost".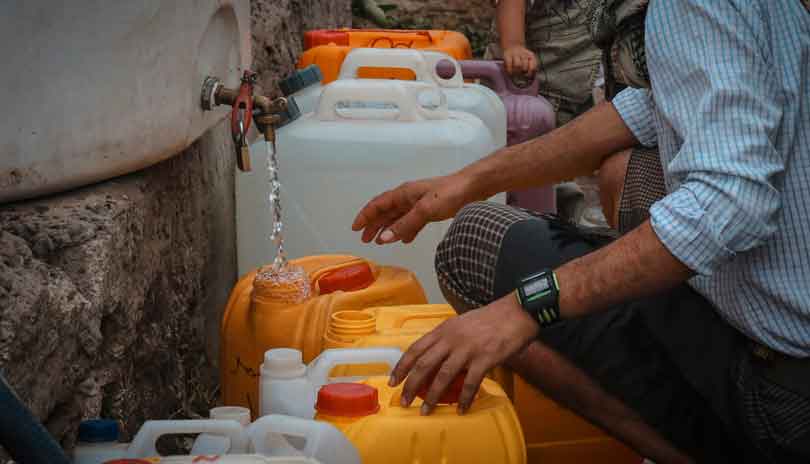 And, as a group of UN officials wrote today (1 March), "with famine already creeping in, we need to quickly ramp up the aid operation if we want to stop it devouring a whole generation."
"We can achieve this if donors commit to returning to the much higher funding levels of 2019 – at the very minimum", they added.