Today (31 May), the Israeli occupation forces launched a large-scale campaign of arrests in Shefa-Amr, Ablin, and Bir al-Maksur, inside the occupied Palestinian interior.
According to local sources, large numbers of occupying forces, including police and special forces, stormed a number of homes and Shefa-Amr and Ablin, destroying property, assaulting citizens, and arresting a number of young people.
At the time time, Muhammad Hajj Yahya, aged fourteen, was severely beaten by occupying police in al-Tabiyeh, inside the occupied territory. Photographs shared online show marks of a serious assault, including to the face.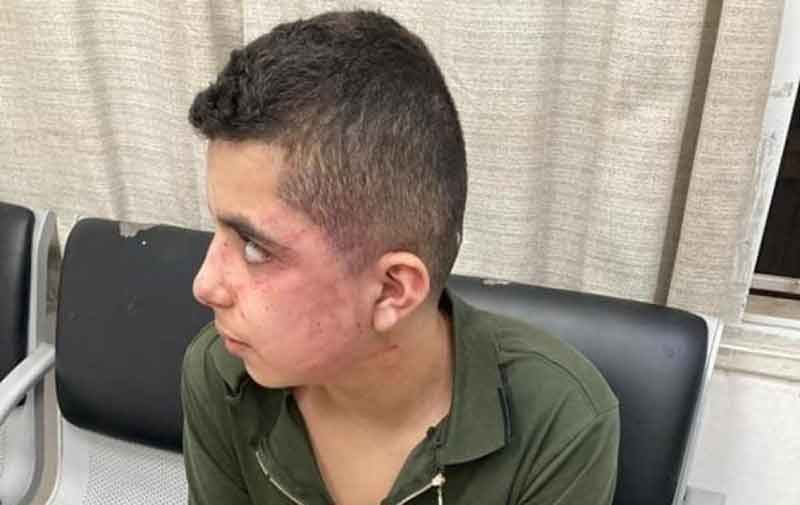 Israeli special forces arrested the boy Muhammad in the northern part of the city. The city has seen peaceful marches in support of occupied East Jerusalem (or al-Quds as it is known in Arabic), the al-Aqsa mosque, and the people of Gaza.
The Israeli occupation police have arrested more than 1,700 citizens of the interior towns since the first protests against the aggression aimed at al-Aqsa Mosque and Gaza — a rate of 100 arrests per day, according to the Arab Authority for Emergencies in the occupied territories of 1948.
On 13 April 13th the situation in the Palestinian territories exploded due to "brutal" Israeli attacks in the occupied city of Jerusalem, particularly against al-Aqsa Mosque and the Sheikh Jarrah neighborhood, where the occupying force is attempting to forcibly evict several Palestinian homes, in order to give them to settlers. The aggression then moved to the occupied West Bank, with a military assault on the Gaza Strip.
The death toll of the Israeli attack on the Gaza Strip rose to 255 Palestinians, including 66 children, 39 women, 17 elderly, and 5 people with special needs. It also resulted in 1948 injuries, according to the Palestinian Ministry of Health in the Gaza Strip.
Tensions in Gaza increased dramatically after the Israeli occupation army launched a major military operation against it on 10 May. As well as the human cost, the assault caused the widespread destruction of buildings and infrastructure. A ceasefire began on 21 May.
The brutal Israeli aggression across all of the '48 lands, as they are called, resulted in 279 deaths, including 69 children, 40 women, and 17 elderly people, and 8,900 injuries, 90 of which are "extremely dangerous".
Arab Organisation for Human Rights in the UK (AOHR UK) had said in a statement that the international community remained silent on the Israeli aggression and "equated the victim to the executioner", making it a partner to the serious crimes committed by the Israeli war machine against the Palestinian people.