The journalist Zina al-Haluwani, has revealed that she met Palestinian children as young as 11 and 12 in the occupying force's prisons. Some cried for their mothers, she reported.
As al-Haluwani has said, "in front of my cell was the 'cub section', which held children of 11 and 12 years. I heard their cries at night, crying "by God, I want my mother".
"The more I think about them, the more I cry", she added.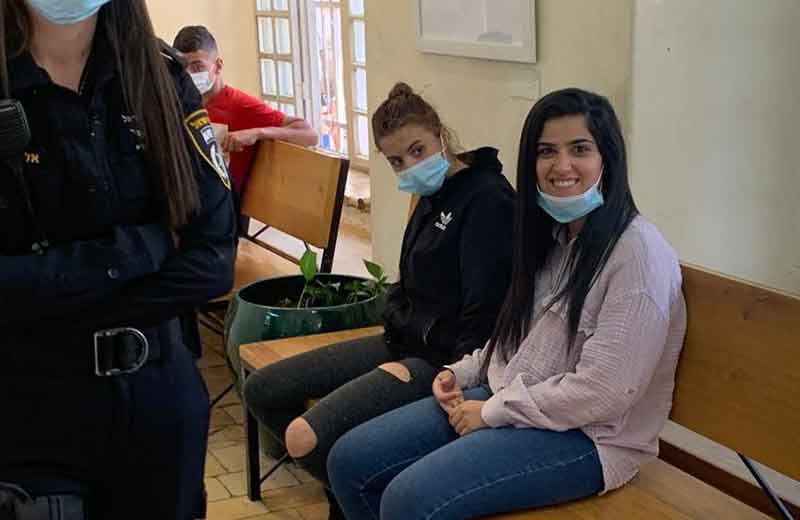 Crying, she added, "thank God, I left prison; what was the fate of those children who remain in Israeli prisons?" Whilst being held in a waiting area inside the prison, she saw a number of child detainees. She was ashamed at not being able to help them, she said.
"Where are human rights [in this situation]", al-Haluwani asked. "Who cares about the situation of these children?"
Last Monday, the occupying Israeli force released two al-Quds journalists, Wahbi Makiyya and al-Haluwani. Both are under house-arrest until Friday, banned from Sheikh Jarrah neighbourhood for a month, and were fined around two-thousands shekels (approximately $600 US).
Makiyya said, after his release, that "prisoners' situation whilst detained was very bad. We had the chance to drink water once a day, but all the food was rotten. I went five days eating only eggs".
And, he added in a statement to the media, "they assaulted me in prison, but treatment was not provided to me, despite the presence of a clinic and medical staff. From the blow of the rifle butt at Sheikh Jarrah as I was working, I was left bleeding for an hour and a half".
He concluded by saying: "I went through difficult conditions in detention, not to mention the treatment of other journalists."
Al-Haluwani and Makiyya were arrested on 28 May whilst covering events in Sheikh Jarrah neighborhood. They were both beaten, causing bruising. Makiyya was left bleeding by the occupying force, who also broke al-Haluwani's specialised camera.
On Sunday, Palestinian human rights organisations announced that the Israeli occupation forces are currently detaining 18 Palestinian journalists,
The last to be detained were a male and female journalist, arrested in al-Quds last Friday. Palestinian journalists held a vigil the same day in the Sheikh Jarrah, claiming that Israel has attacked at least 40 journalists over the last period.
The occupation authorities are attempting to forcibly take 12 homes from their owners in the Sheikh Jarrah neighborhood of occupied East Jerusalem, in order to give them to settlers.
Arab Organisation for Human Rights had called for "the creation of an international court specialising in crimes committed against journalists, in order to hold those who attack the free press – to hide the truth from the people to serve their interests and agenda – accountable."
In a statement, AOHR UK claimed that farcical justice meted out to journalists will not end, unless the hypocrisy of those countries which profess the principles of a free press – even as they make deals with regimes that do not uphold the same principles, but rather attack and kill journalists – comes to an end.