Israeli forces demolished the Palestinian village of Al-Araqeeb in the southern Negev on Friday for the 184th time since July 2010 – and the ninth time since the start of the coronavirus pandemic.
The village, home to 22 Palestinian families, was set upon by occupation forces during cold weather, forcing the inhabitants into homelessness yet again.
The encampment is made up of temporary structures made of corrugated iron, plastic, and wood, and has been levelled three times this year alone. Israeli forces return to destroy the community every time it is rebuilt.
As Arab-Israelis, the villagers pay taxes towards the occupation regime. The machines and weapons used by Israel in its demolitions are paid for by the villagers, who have been denied basic rights such as connections to water and electricity.
The villagers are also living in a perpetual state of fear, never knowing exactly when the military will return with its bulldozers to destroy their homes, water tanks, and farmland.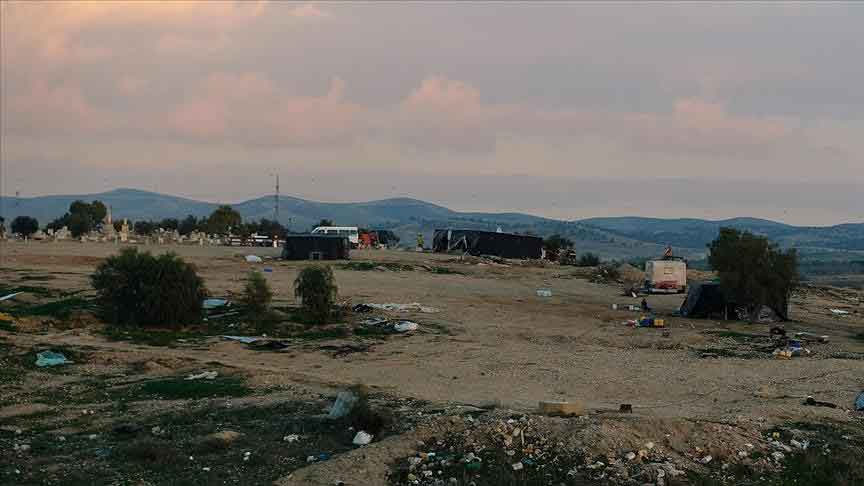 The village is one of 51 Arab communities that Israel refuses to recognise. The state wants to clear the Palestinian from the land to make way for further Jewish settlements.
Israel's continued policy of forced displacement of Palestinian has been criticised by governments around the world and is widely seen as illegal under international law. Even pro-Israel countries such as the UK have condemned the actions.
Al-Araqeeb was first built during the Ottoman era, when the villagers are thought to have bought the land now being taken by Israeli forces. It has endured numerous attempts by Israeli forces to clear the land for Jewish occupation. The region was first targeted by the occupation following the Arab-Israeli war of 1948, and by 1953 90% of Arab inhabitants had been forced from the land.
While Israel claims that the land is owned by the state, and that it is not appropriate for the villagers, those defending the villagers note that kibbutzes and small farms are allowed to operate in the same area.
The residents of Al-Araqeeb have vowed to rebuild their village yet again – while Israel has shown no indication of ending its policy of forced displacement.
read also: On International Women's Day, occupation forces attacked an al-Quds women's centre meeting.