After 54 days of hunger strike in protest against his administrative detention in an Israeli prison, Palestinian prisoner Ghazanfar Abu Atwan's health has deteriorated.
Abu Atwan, 28, from Dura, south of Hebron in the West Bank, was arrested by occupying authorities in October 2020. He had been arrested several times previously and engaged in a hunger strike against a prior bout of administrative detention in 2019.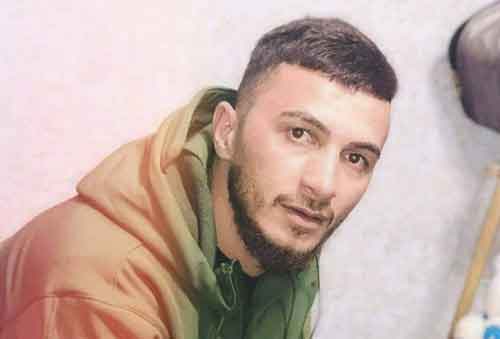 During a visit to Israel's Kaplan hospital, where Abu Atwan has been transferred for health reasons, the detainee's sister said, "on Thursday, the occupation authorities announced a decision to freeze his administrative detention, meaning the prisoner [Abu Atwan] is like any civilian patient in the hospital – meaning his condition is very serious. The prison administration is relinquishing responsibility, and placing it on the hospital's shoulders."
And, she continued in a video message, "Ghazanfar suffers from heart trouble, and complains about his sides, suggesting a problem with his kidneys. He suffers from constant headaches and dizziness. He refuses to deal with the medical staff, to be examined, to take supplements and vitamins. He takes water, and sugar- and salt-water, with the aim of preserving his internal organs."
And, she continued, "this freeze does not mean canceling the administrative ruling; the ruling continues", and noted that the Israeli prosecution and court has refused to halt the administrative ruling against him, or even shorten its term.
Last Thursday (24th), the Supreme Court of the Israeli occupation issued its decision to suspend the administrative detention order against Abu Atwan at the prosecutor's request, as based on medical reports issued by Kaplan hospital, which indicate that Abu Atwan's life is in danger.
The number of administrative prisoners across the occupying force's prisons has increased significantly since May 2021. There are currently 520 such prisoners, including four children and two women.
'Administrative detention' means detention without charge or trial, as based on secret files that neither detainees nor their lawyers can access. Based on military command, administrative detention orders can be as long as six months, though they can be renewed indefinitely.
Arab Organisation for Human Rights in the UK has recently called for the launch of a solidarity campaign with hunger-striking Palestinian prisoners, in order to demand their immediate release, since their detention threatens their lives.