Israel's occupying army has committed yet another crime against Palestinian children, by shooting dead a 12-year-old.
In a short statement, the Palestinian Ministry of Health reported that Muhammad Muayyad Bahjat al-Alami was shot dead by occupying forces in the West Bank's south region.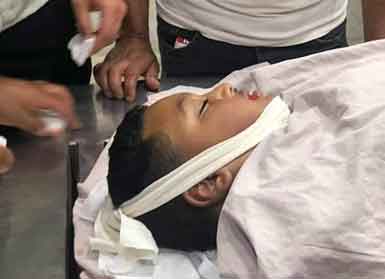 In the statement, the ministry clarified that al-Allmi died "of chest wounds due to living fire from occupying forces on Wednesday evening, in Beit Ummar, north of Hebron."
According to eyewitnesses, Israeli forces opened fire on the vehicle al-Alami was a passenger in at the entrance of Beit Ummar, hitting the child. His death was announced shortly afterward. His father was slightly injured.
Al-Alami was a student at Beit Ummar Boys Primary School, part of the North Hebron Education Directorate. He was in the sixth-grade.
The Palestinian Ministry of Education is mouring al-Alami, and has renewed its demand on countries around the world, human rights institutions, and child-protection groups to attempt to stop the escalating attacks against children and school students across Palestine.
The Israeli army's attacks against Palestinians and their property in the occupied West Bank continue daily, whilst Palestinians call for the international community to provide protection for them as a people under occupation.
Arab Organisation for Human Rights (AOHR UK) has repeatedly called on the international community to take serious, practical measures to stop the violations and crimes of the Israeli occupation authorities and settlers against Palestinians, children in particular.
AOHR UK has underlined that "the silence over these criminal practices – allowing the occupying regime to enjoy normal relations with the international community – amounts to the international community's participation in those same crimes."