On Sunday at dawn, May 16, 2021, Israeli warplanes destroyed dozens of apartments in Al-Rimal neighborhood, west of Gaza City and killed its residents.
Without prior warning, Israeli warplanes successively bombed homes killing 33 Palestinians and wounding 50 others, most of whom are women and children, according to the Palestinian Ministry of Health.
12 women and 8 children were among those killed, according to the Ministry.
Civil defense crews continuing searching for missing people under the rubble of destroyed homes in the area.
Eyewitnesses said that in the early hours of dawn today, Sunday, they were surprised by an unprecedented bombing of the area by the Israeli warplanes, leaving severe destruction of streets and homes, which was turned into a mass of rubble.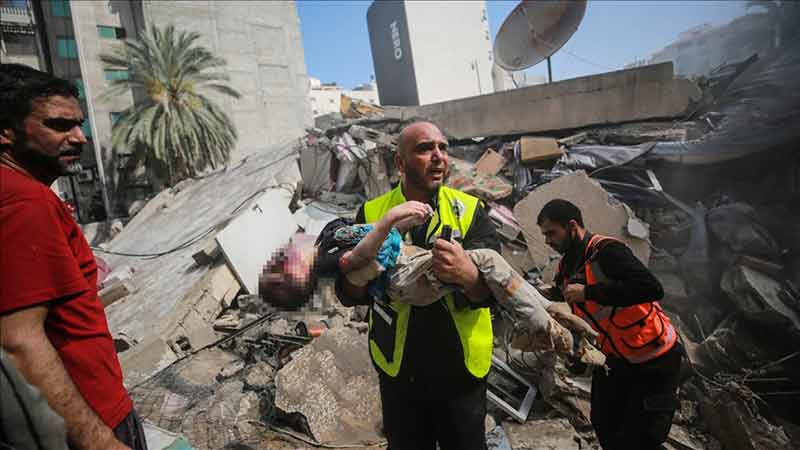 The death toll of the barbaric Israeli aggression on the Gaza Strip increased to 181 dead, including 52 children and 31 women, in addition to 1,225 injuried with various wounds, according to the latest update from the Palestinian Ministry of Health.
The Israeli occupation aircraft, artillery and warships launched hundreds of raids and attacks on different areas of Gaza, including government headquarters, towers, residential homes, media headquarters, infrastructure, and economic establishments.
The Arab Organisation for Human Rights in the UK (AOHR UK) stressed in a statement that the Israeli aggression on the Gaza Strip, Al-Aqsa Mosque, the worshipers, and the displacement attempts of the residents of Sheikh Jarrah neighborhood, and the building of settlements threaten international peace and security and may lead to great chaos in the region.
AOHR UK added that the silence of the international community and bring satisfaction with only stopping violence -while treating the victim and the aggressor the same-, simply turns it into a partner in the grave crimes committed by the Israeli forces against the Palestinian people.