The number of victims of prisoners of conscience continues to increase in Egyptian prisons, due to poor conditions of detention, which is exacerbated by the deliberate medical negligence, in addition to holding many detainees in solitary confinement, and subjecting them to human rights violations, amid complete silence of international community.
On Wednesday, August 11, Mahmoud Abdel Hakim Al-Hamshari, from the village of Kafr Zagazig, died in an Egyptian prison, while serving a prison sentence for the second time in a row.
Al-Hamshari was in his forties, a father of three children, held a master's degree from Al-Azhar University and worked as an imam and preacher.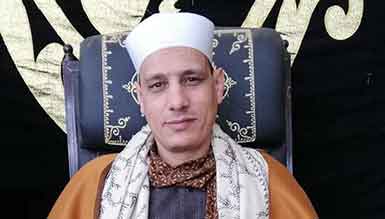 The Egyptian authorities arrested Al-Hamshari on August 1, 2019, and forcibly disappeared for 22 days, after which he appeared in the State Security Prosecution, which accused him of working to organize and finance overthrowing the regime.
Al-Hamshari was transferred to a military court about six months ago, which sentenced him to five years of military prison.
Al-Hamshari's family said that he was in good health and did not suffer from any diseases and was well during their last visit to him.
The family added that they received a call from the prison administration telling it that Al-Hamshari is in the hospital in a very critical condition, and upon their arrival they were informed of his death.
The number of victims of this August rose to six; after the death of the detainee, Walid Saleh Saudi, who died yesterday inside the police station I of Al-Mahalla Al-Kubra, due to poor detention conditions.
The Egyptian authorities had arrested a Saudi citizen a week ago, and detained him at the National Security headquarters in Al-Mahalla Al-Kubra, until he was presented to the Prosecution yesterday, Wednesday, which ordered his release on bail, but he passed away before finishing the bail payment, claiming that he died of high temperature and suffocation inside the place of custody.
With the death of Al-Hamshari, the number of victims in Egyptian prisons since the beginning of this year has reached 32, most of whom died as a result of medical negligence exacerbated by the poor detention conditions, raising the total number of victims since July 2013 to 900 victims.
Prisoners of conscience suffer from medical neglect in Egyptian detention facilities, which lack international standards for places of human's detention, according to a statement by the Arab Organisation for Human Rights in the UK, which pointed to the huge overcrowding in cells where detainees suffer from malnutrition, lack of hygiene and the spread of insects and pollution, as well as the lack of ventilation and lighting.
AOHR UK had repeatedly warned against the Egyptian authorities' "indifference" to the lives of detainees for whom the government is responsible under international laws to provide medical treatment, especially in times of epidemics.
Since President Abdel Fattah El-Sisi assumed power in the country; The Egyptian authorities have been waging an unprecedented crackdown on dissidents and critics, arresting thousands in politically motivated arrests, many of whom have been convicted and sentenced in unfair trials, or held without trial for years on baseless terrorism-related charges, in very poor detention conditions.