Aya Hossam Khalaf, daughter of Mrs. Ola Youssef Al-Qaradawi, said that her mother went on an open strike since July 11, adding that her life is in danger, as "she has health problems which would seriously be affected under the hunger strike".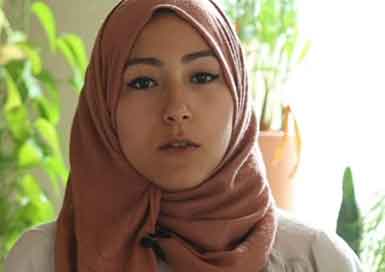 She explained that her mother is risking her life in protest against her arbitrary detention for four years, without knowing the reasons for her detention, or when she would be released.
Ms. Khalaf pointed out that the Egyptian authorities arrested her parents together on June 30, 2017, while they were on Eid holiday, and forcibly disappeared them for three days, and added their names to a cause they knew nothing about. The authorities held them in pretrial detention for two years without investigations, evidence, and in very harsh conditions.
The authorities placed her mother in solitary confinement for two years, during which she was prevented from receiving any visit or contacting her family.
On July 3, 2019, she was released after her health and psychological condition deteriorated, however, the authorities fabricated a new case for her on charges of using her contacts in prison to fund and support terrorism, despite the fact that she was held in solitary confinement and did not come into contact with any detainees during that period.
She said that her mother completed two more years in the second case, lost hope, and could no longer tolerate this injustice, and therefore she went on a hunger strike.
Aya noted that during her last court session her mother informed her lawyer that she had been dizzy before she went on hunger strike, and the Prison authorities sent her to the hospital.
Al-Qaradawy's lawyer told the family that her mental and physical health was very poor. "When would my parents leave prison to come home to their family after more than four years of pretrial detention?", Aya questioned.
Al-Qaradawi's daughter held the Egyptian authorities responsible for her mother's health, calling for her and her husband's immediate and unconditional release, due to their innocence from all crimes.
The poet Abdel Rahman Yusuf Al-Qaradawi had announced that his sister, "Ola", began a hunger strike, and had notified the court of this at the last renewal session on July 11.
He stressed that the family holds the Egyptian regime responsible for Ola's safety after exceeding the legal period of pretrial detention in the second trumped-up case.
In conjunction with Ola Al-Qaradawi's hunger strike; Egyptian journalist Hisham Fouad, activist Ahmed Badawy, and researcher Ahmed Samir Santawy continue their open hunger strike to protest their continued detention.
Since President Abdel Fattah El-Sisi assumed power in Egypt, the Egyptian authorities have been waging an unprecedented crackdown on dissidents and critics, arresting thousands in politically motivated arrests, many of whom have been convicted and sentenced in unfair trials, or held without trial for years on baseless terrorism-related charges, in very poor detention conditions.