Israeli occupation forces have imposed restrictions on Palestinians the day after a rampage of far-right Israeli settlers through East Jerusalem, which left around 110 Palestinians injured.
On Friday, the second of Ramadan, military police prevented a number of Palestinians from attending dawn prayers by closing the Al-Aqsa Mosque's Bab Hutta gate.
They also restricted Palestinian movements around East Jerusalem, putting more metal barriers in place, restricting access to Jerusalem from Qalandia and Bethlehem military checkpoints, including a blanket ban on Palestinians who have not had Covid-19 vaccinations, and checking identification documents around the city.
The restrictions come after a night of violence on Thursday, when settlers took to the streets of Jerusalem attacking Palestinians, threatening to "burn villages" and chanting "death to Arabs".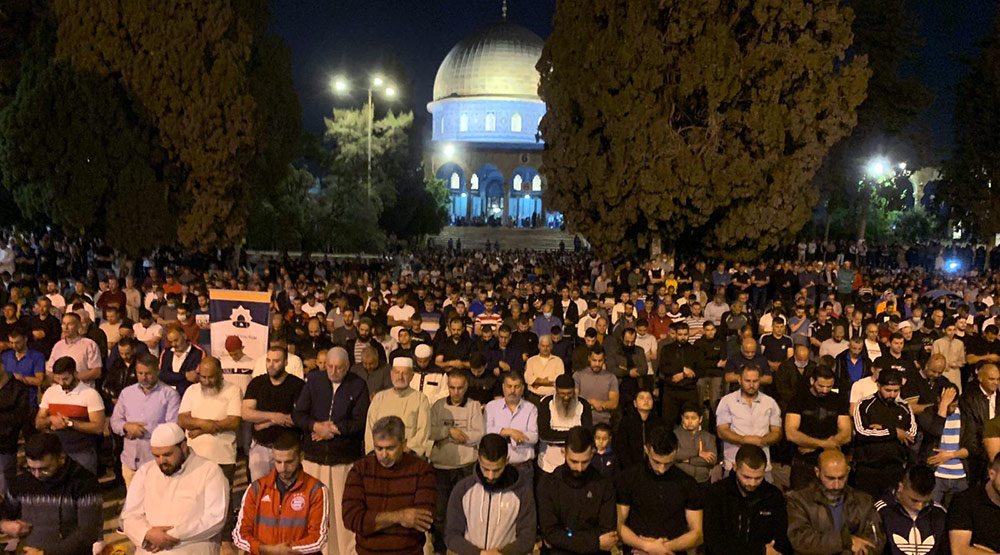 Some 110 Palestinians were injured and 50 arrested during the unrest, which also left 50 Israeli police with injuries.
The settlers, from the far-right Lehava movement, which calls for the expulsion of Palestinians from the occupied territories, gathered to attack Palestinians as they left evening prayers at the Al-Aqsa compound. The organisation has around 10,000 members.
The Lehava supporters blocked main roads and vandalised Palestinians' cars around the Old City's Damascus Gate. They also attacked Palestinians' houses with rocks, smashing windows and scaring families in the neighbourhood of Sheikh Jarrah.
Palestinians who attempted to stop the settlers were attacked by Israeli forces with water cannon, live and rubber coated bullets and stun grenades. Horse-mounted Israeli police also attempted to contain the settlers to some extent.
The Arab Joint List, a Palestinian alliance in the Knesset, called the events "joint aggression by the police forces and the misdeeds of Jewish extremists from the Kahane gangs supported by Netanyahu… against the Palestinians, especially Jerusalemites… This chaos in Jerusalem… aims at emptying (the city) of their people, the homes and their owners."
The violence followed a week of harassment of Palestinians attending Ramadan prayers at the Al-Aqsa Mosque. Israeli occupation forces installed barriers around the Damascus Gate, a popular place for Palestinians to visit after prayers, and attacked crowds with riot gear and stun grenades.